We're here to change travel so it benefits everyone touched by it.
Above Safaris is the brainchild of a social entrepreneur and an expert with 10+ years in the travel sector. We evolved from a desire to do travel differently — to bring you unique and life-changing experiences with real impact.
We started with a responsible and sustainable approach, and then built the highest quality experiences on top of it. This means we bring you impact-driven travel without sacrificing any of the quality and expertise that you seek.
READY TO LEARN MORE?
Travel as a Catalyst for Change
Our model is grounded in our three core values:
Responsibility
Traveling responsibly means going beyond the experience of our clients. It's taking responsibility for our footprint on the land and our impact on the community.

Tourism always affects local people. That's why we create new opportunities, learn from one another, and facilitate meaningful connections through travel.
Sustainability
Tourism affects natural resources, community well-being, and local economies. Sustainability must be at the center of tourism—not only for the industry to survive, but also for local communities to thrive.

Sustainability leads us to support local businesses—working with companies that are committed to sustainability and responsible business practice.
Community Innovation
Community innovation is at the heart of what we do. We believe that the toughest and most urgent challenges are best solved by local communities.

Local Tanzanian communities have the potential to solve challenges in Tanzania with their own innovative ideas. We seek out the innovators—the changemakers in their own communities.
We enable our clients to become…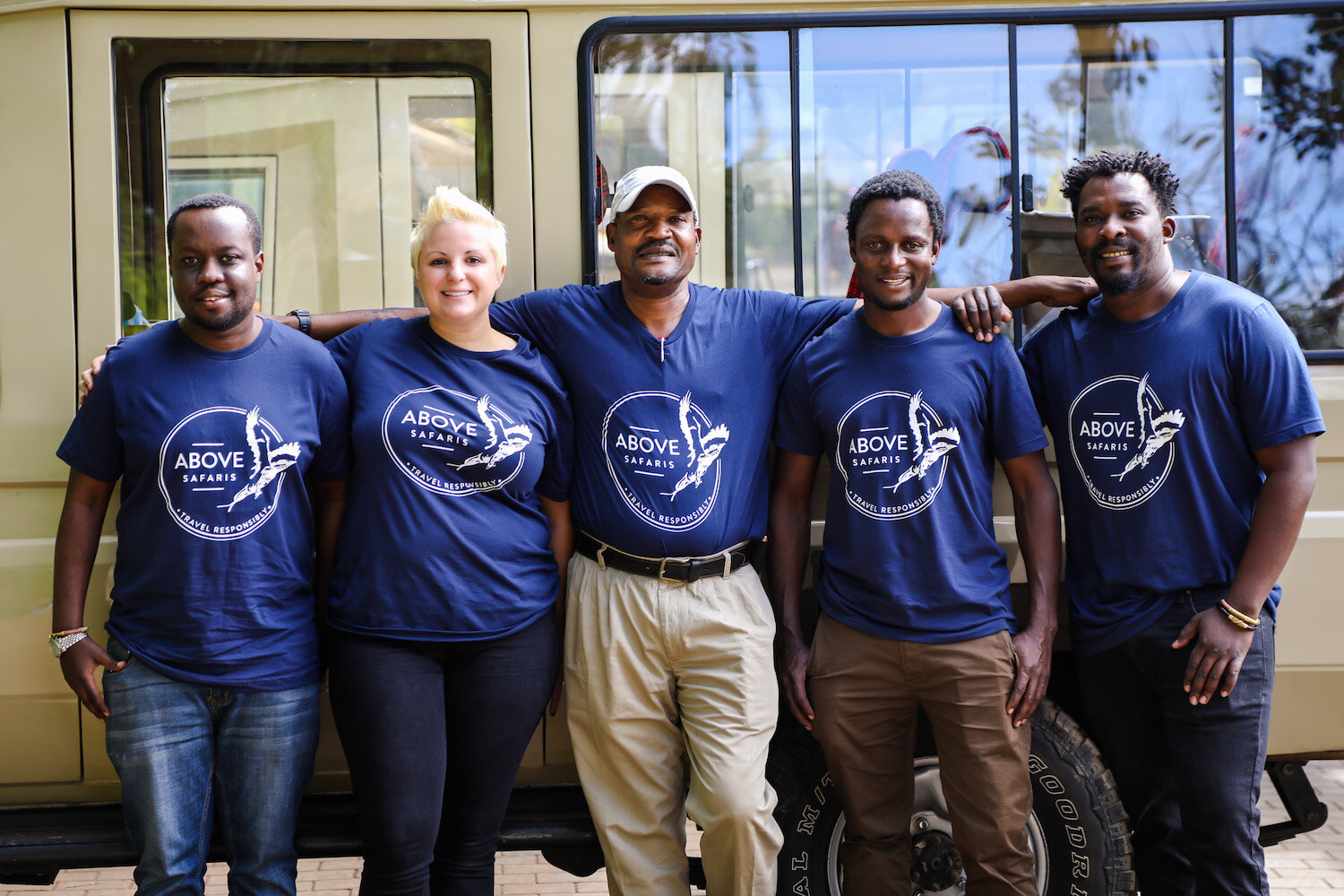 Life-changing adventures, Attention to detail, and expert knowledge are just a few of the things our clients appreciate about their experience with above safaris
Aaron - New York, New York
"I don't normally post reviews of my trips or experiences because I don't usually find anything so noteworthy as to share with the world, but I have to say, that my experience with Above Safaris was nothing short of life changing. From the professionalism shown by Carrie and Solo during the process of scheduling my visit to the expertise and knowledge of the wildlife and how to properly capture the best possible scenarios while remaining a preverbal 'fly on the wall' made all the difference in the world. I encourage whoever reads this to consider this company for your next adventure and I assure you, by the time your trip is over, you won't want to book anywhere else."
Nicole - Mumbai, India
"This was absolutely one of the best vacations I have ever taken! Above Safaris did an excellent job of putting together a trip that was both adventurous and relaxing. Their attention to detail was fantastic and every part of the trip was seamless (all of the planning was done by Above Safaris in advance). We visited 4 parks (Tarangire, Lake Manyara, Serengeti, and Ngorongoro) and spent 4 nights on the beach in Zanzibar. Our guides for the safari portion of the trip couldn't have been better: they were knowledgeable, friendly, and professional. Each accommodation was unique and beautiful in their own way. I could not recommend Above Safaris more!!!"
Dori - Brooklyn, New York
"My husband and I booked our honeymoon adventure through Above Safaris and we were absolutely thrilled with the trip. From the very beginning, Above Safaris had great communication and they did all of the heavy lifting to plan our adventure. After an initial consult to determine what we were interested in doing/seeing during our time in Tanzania, they sent us a detailed itinerary including: a beautiful hike to a waterfall in Arusha, a once-in-a-lifetime experience meeting the Masai people in their village and participating in a traditional celebration, 5 days of Safari including a hot air ballon ride(!!!), and 5 days in Zanzibar."
Liz - Boulder, Colorado
"Booking a safari and Zanzibar trip with Above Safaris was quite possibly the best travel decision I've ever made. Everything was seamless, the accommodations were better than I ever would've imagined, and if you care about socially responsible travel, this company really can't be beat. The experience was undoubtedly excellent. Carrie and Solo, the owners, are incredibly kind and accommodating, they pay good wages to their staff, and their expertise/respect of the region provides a truly authentic experience. Book your next trip with them!"
Bill - Buffalo, New York
"We recently returned from the trip of a lifetime, a yoga and meditation retreat to Tanzania. The Above Safari guides were extremely knowledgeable about the wildlife we encountered, the animals and birds native to Tanzania, the geography and history of the area, explaining the volcanic activity that resulted in the the largest crater in Africa (Ngorongoro), totally enhancing our experience during the adventure. Significantly, the guide's knowledge of and language ability with the indigenous people gave our group an important understanding of their experiences and appreciation for their lifestyles we encountered."
Teresa - Brooklyn, New York
"Words cannot describe this amazing trip and the attention to detail that Carrie and Solo took to make our vacation the best ever. Our guide, Paulo, never tired of our unending questions and he loved sharing his extensive knowledge of all that we saw. Actually, I can say that this vacation spoiled me forever. We stayed at the best places in the best setting and the Tanzanians we met were extremely welcoming and generous. Partly, I imagine, because Above Safaris is dedicated to social responsibility and only books where they know the workers are treated with the utmost respect and kindness. Every hotel was more beautiful than the prior and the settings were gorgeous— unlike any other."